Data Recovery Services Toronto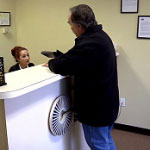 With more than 15 years of experience in data recovery and proficient engineers with the most encompassing tools, software and processes, Data Recovery Services Toronto presents the ideal data recovery options to its clientele. No matter what sort of a data loss issue you have – we are going to solve it!
Get Your Data Recovered by the Professionals at Data Recovery Services Toronto !
Warning! If you are having problems with your hard drive, stop using it right away! Although losing data is no less than a catastrophe, the professional data recovery solutions offered by our skilled staff are there to save the day. Our expertise makes it possible for us to handle all data loss issues, such as:
Recovering data that from corrupted database files, records that got accidentally dropped and even the restoration of entire tables along with forms, queries, stored procedures and macros.
Out exclusive team has the potential to deal with all sources of data loss. These range from the most basic to the most intricate situations of losing data. The catastrophes that we can deal with include data loss caused by viruses, human error, accidental deletion, natural disasters, corruption, hardware failure, system crashes etc.
Our amazing team can easily recover lost data from:
All types of devices, media and systems including hard drives and RAID systems. We also cater to your data recovery needs for MP3 players and laptops. Rest assured that the highly qualified and skilled engineers at Data Recovery Services Toronto have what it takes to recover data from database or storage system that are even unique for your organization.
Data Recovery Services at the Most Affordable Rates !

Data loss problems seem to get worst when you try to find what was lost or make attempts to fix things on the computer that has faced the issue. Wondering what the worst case scenario might be? Well, try to get well-meaning friends or computer repair shops to try to recover the lost data and all you would be left with is going to be 'destroyed data'.
Drives that are malfunctioning must never be used if you want to protect your data on them. Stop using your drives right now and let the professional at Data Recovery Services Toronto handle the rest! We realize the fact that getting data recovery services does not come cheap. It is actually quite overpriced and a majority of regular computer users and small businesses need to think a million times before even contacting a data recovery services firm.
If this is the case with you,
Worry no more! We strive hard to make sure that our customers receive high quality data recovery services in Toronto at the most affordable rates with fastest turn around time. Basically, Our services are priced according to the level of efforts that we have to be put in to recover your data. This makes it possible for us to present price plans that are significantly less than as compared to other data recovery labs.
The Policies at Data Recovery Services Toronto

No evaluation fees
If we are incapable of recovering data, we do not charge
Customers receive fixed price quotes before data recovery
If additional fees apply, these are presented and agreed to before being charged
Free Pick up and Delivery